Starting a Window Cleaning Business: Critical Tips for Ensuring Success

By
Joseph Larson
·
8 minute read
There are several awesome advantages to starting a window cleaning business. These include getting to be your own boss, having access to repeat customers, and low capital investment to get started.
This makes a window washing business a great company to start if you are an entrepreneur looking for a low-investment business that can scale over time.
However, you'll need to make sure that you stand out from your competition in order to be successful.
For that reason, we've put together a list filled with the critical tips to make sure that your window washing business is the best in town.
1. Come Up With a Business Plan
When you are starting a window cleaning business, one of the first things you'll want to do is come up with a business plan.
While this can sound intimidating, it doesn't have to be a huge deal. This plan will simply help to outline what it is you're trying to accomplish and the steps you need to take to get there.
Business Summary
The first part of your business plan should be an executive summary. This provides an overview of your business and your plans for growth. Include information about your target market (i.e commercial, residential, or both), and be specific about the area you plan to serve.
This will help align your window cleaning business with the needs of potential commercial and residential clients and ensure the success of your marketing efforts.
Business Structure
Next, detail your business structure. Will you operate as a sole proprietor, or do you plan to take on partners or hire employees?
Many owners choose to register their window cleaning company as a Limited Liability Company (LLC). One of the main advantages is personal liability protections, which is crucial for any business, especially one that entails inherent risks like window washing.
Additionally, an LLC is a pass-through entity for tax purposes, which can be a financial advantage. This means that the company's profits are only taxed once, at the personal level, avoiding the double taxation that corporations often face.
This single level taxation system can simplify your tax affairs and potentially result in lower overall taxes for your window cleaning business.
Startup Costs
Outline your startup costs and create a budget. For a window cleaning business, you may need to invest in:
Cleaning solution

Safety Equipment

Office space

Vehicle for transportation
Marketing and Sales Strategy
In your marketing and sales strategy section, identify your unique selling proposition. How will your window cleaning business stand out from the competition?
Perhaps you will use eco-friendly cleaning solutions, offer exceptional customer service, or provide flexible scheduling to accommodate busy clients.
Make sure to detail how you plan to attract and retain customers.
Financial Projections
Lastly, present a financial projection for your business. This section should include an estimate of your revenue, expenses, and net income for the first few years.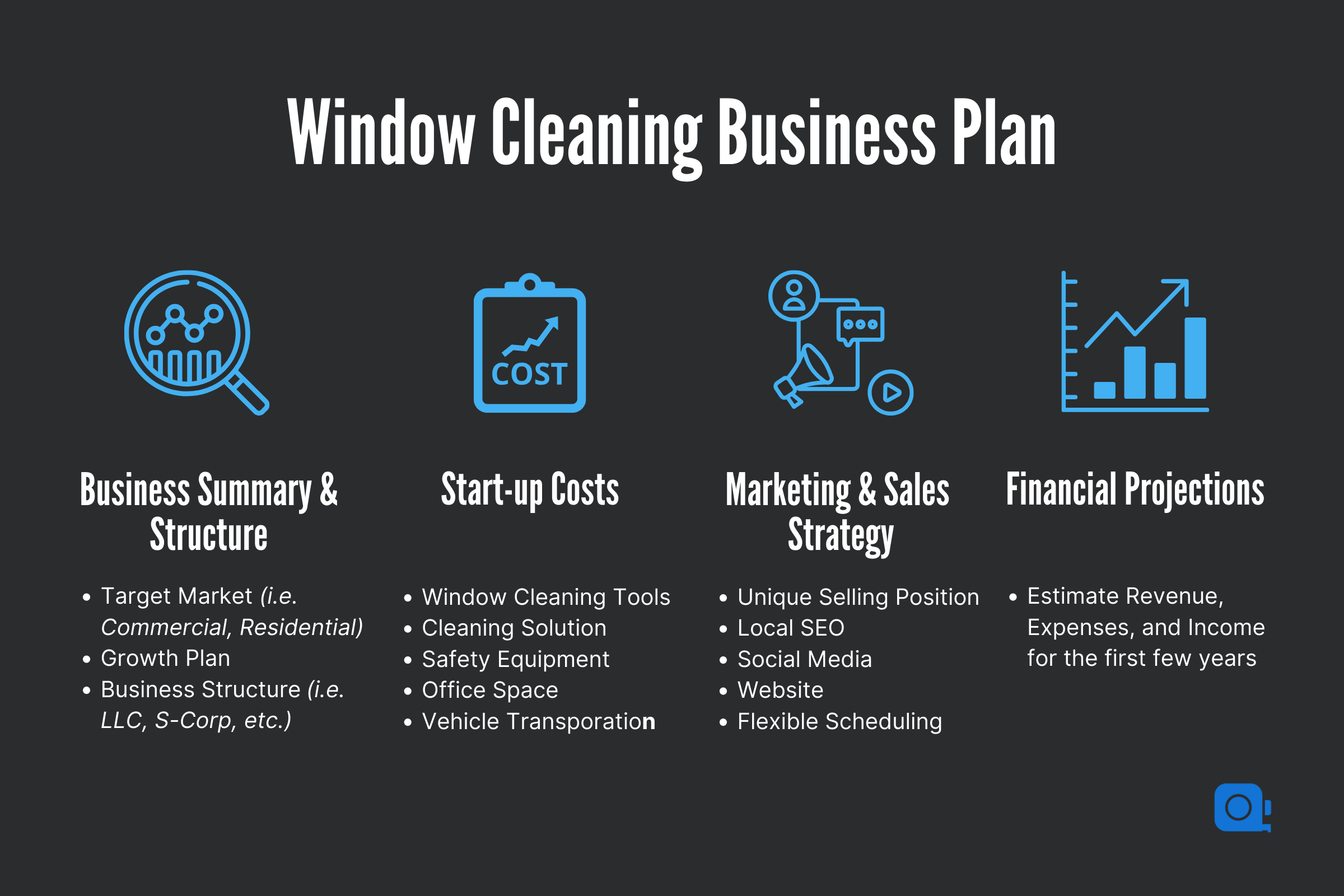 2. Make It Official
When you've done all of the prep work you need to do, you can then make your business fully legal and official. The process of registering your window cleaning business involves a few crucial steps and may vary depending on your location.
Firstly, you have to choose a business name and check its availability. It should be unique, easy to remember, and reflective of the services you're offering. If the name is available, you can move forward with the registration process.
Once you have chosen a business name, the next step is to register it with the appropriate government entity. This would typically be your Secretary of State's office.
You may also need to apply for an Employer Identification Number (EIN) from the Internal Revenue Service (IRS). This is essentially a social security number for your business and is required for tax purposes. Additionally, consider registering for state and local taxes, so you're prepared when tax season comes around.
Once you officially own your window washing business, you will want to separate your personal and business assets. You can do this by opening a business bank account. This will help you track your business expenses in one place.
Also, you may want to consider opening a business credit card to take advantage of any perks they might offer. Nerdwallet keeps up-to-date list of the top business credit cards and can help you find the best business card for your needs.
3. Get Compliant
Check in with your state and local laws to find out what you need to legally operate your business. You may need to obtain any window cleaning business license or permits required by your state.
Further, it's crucial to adhere to all relevant regulations and standards. This can encompass a range of areas, from occupational safety and health standards to environmental regulations.
For example, ensuring that your employees are trained in and follow safety procedures, especially when working at heights, is pivotal to comply with Occupational Safety and Health Administration (OSHA) standards in the U.S.
Additionally, you may need to adhere to environmental regulations related to the disposal of cleaning products or water usage. Regularly checking local, state, and federal regulations is essential to stay updated as these often change.
Maintaining compliance not only protects your business from potential fines and legal issues, but it also builds trust with your customers and enhances your business reputation.
4. Purchase Business Insurance
Insurance is also crucial aspect of running a window cleaning business. It safeguards your business and employees against potential risks and liabilities, protecting your financial stability.
Various business insurance policies are available, and selecting the most suitable ones will depend on the specific needs and risks associated with your window cleaning business.
Primarily, general liability insurance is indispensable. This type of insurance provides broad coverage for bodily injury, property damage, and personal injury claims that could arise out of your business operations.
For instance, if a passerby slips and falls due to a puddle of water created while you were cleaning windows, or if you accidentally damage a client's property while working, general liability insurance would cover the related expenses.
In addition, workers' compensation insurance is typically required if you have employees working for you. This policy covers medical expenses, lost wages, and disability or death benefits in case an employee gets injured or falls ill due to job-related tasks, such as a fall from a ladder while cleaning windows.
Depending on your business structure and the area of operation, other types of insurance, such as commercial auto insurance (if you use vehicles for business purposes) or an umbrella policy (for additional liability coverage beyond the limits of your other policies), may also be needed.
Consulting with an experienced insurance agent can provide clarity on the most appropriate coverage for your specific window cleaning business.
5. Detail your Service Offerings and Prices
In order to set your prices for your window cleaning services, you'll want to take a look at the competition and research the market overall. The goal is to find the sweet spot where you both attract new clients with appealing prices but also aren't losing out on money you could be making.
It is standard in the window cleaning industry to charge either per project, per window pane, or per hour.
Some business owners find that a per pane business model incentivizes speed and is, therefore, more efficient. If you do a good job hiring high-quality employees then you can count on them to clean windows quickly without sacrificing quality.
For some jobs, however, it might make sense to charge per project. Some bigger jobs for commercial clients, like high rise window cleaning, might require extensive training and preparation in a way that makes quoting the job as a project more realistic.
Many window cleaners also offer similar services, such as pressure washing and gutter cleaning, as add-ons to their window cleaning service packages.
The best thing to do is to start reaching out to potential clients to see what services they are interested in and at what price.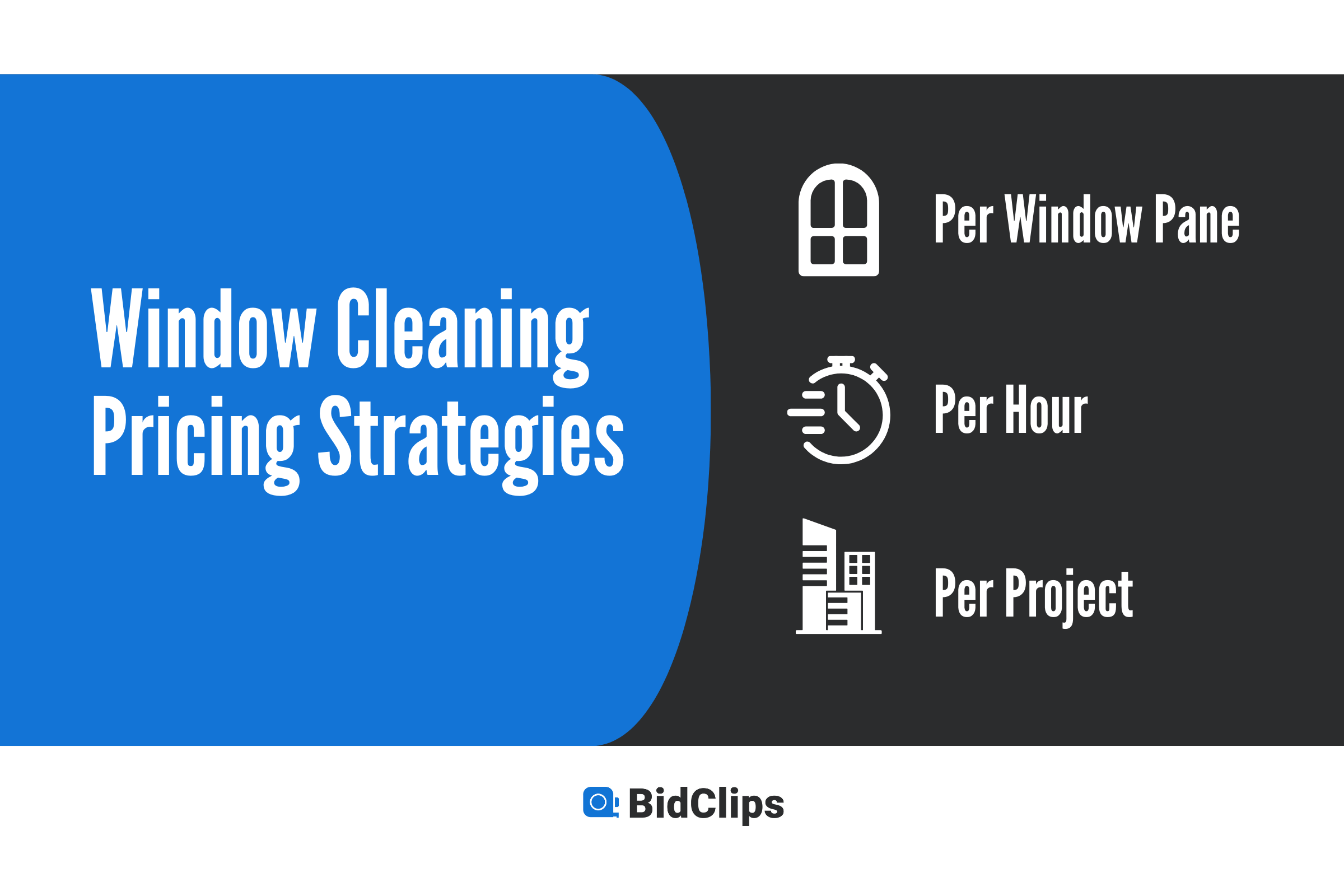 6. Create an Online Presence
The world is increasingly digital and it is therefore essential to have a strong online presence.
Most customers these days begin their search for local service businesses online. This means that you will want to show up in the top few results when they look for a window washing service in your area.
What does it mean to create an online presence?
It means making a website, social media pages, and making sure you are listed in all relevant local business directories. It also means making yourself a Google Business page and working to boost your local SEO.
7. Don't Cut Corners When It Comes to Hiring
The people that you hire make your business what it is. Operating a successful window cleaning business starts with assembling a team of capable, trustworthy, and dedicated customer service representatives and window cleaners.
The hiring process should begin with a clear understanding of the role's requirements and competencies. Proficiency in window cleaning techniques, attention to detail, physical fitness, and comfort working at heights are some of the core skills to look for in potential hires.
Additionally, soft skills such as communication, customer service, and teamwork are equally important, especially in a service-oriented business where customer interaction is frequent.
In your job postings, clearly define the role, responsibilities, and desired skill set to attract the right talent. Leverage multiple job listing platforms, such as online job boards, local classifieds, and social media networks, to reach a wider candidate pool.
You can also consider working with a staffing agency to streamline the hiring process.
Preliminary screenings through phone or video interviews can help shortlist potential candidates before inviting them for face-to-face interviews. In-person interactions can provide a better gauge of their personality, work ethic, and suitability for the role.
Finally, remember that hiring is only the first step in building a strong team. Invest in your employees through training and development initiatives, promoting a safe and positive work environment, and implementing a fair compensation and benefits structure.
By doing so, you not only enhance your team's skills and morale but also contribute to employee retention. With a dedicated and skilled team, your window cleaning business is more likely to thrive and deliver exceptional customer service.
8. Find the Right Window Cleaning Business Software
Administrative tasks are a part of any business including a window cleaning business. While this might not be your favorite part of running a business, neglecting these tasks can mean your business is inefficient at best and a failure at worst.
You never want to miss appointments, let information about clients slip through the cracks, or lose invoices. These can all be damaging to your cash flow and your reputation.
With the help of software for a window cleaning business, you can systematize the day to day operations of running a profitable and well-respected operation.
BidClips is window cleaning business software that can help your business thrive and grow. With our software, you can easily communicate with customers, quote faster with window cleaning estimate templates, automatically follow up with existing clients, get paid faster, and much more.
It can also help you manage your sales number using our simple interface to help you make informed decisions regarding training and staffing.
9. Make Customer Service a Priority
People will be happy with your service if you do a good job washing their windows. However, it's the customer service aspect that will make them loyal customers that will recommend your service to others and review your business online.
Make it a policy to respond to people quickly and have a system for dealing with complaints and issues so that you can keep your customers happy.
10. Prepare for Seasonal Fluctuations
If you want to run a profitable business, it is important to plan for seasonal fluctuations in demand for your window cleaning services.
During the slower months, make effective use of this downtime to plan and strategize for the peak season. This could include scheduling regular maintenance of your equipment, training new employees, strengthening your marketing strategies, and bolstering customer relationships through follow-ups.
Offering discounts or incentives for customers who book their window cleaning services during slower periods can also help balance out the demand and maintain a steady cash flow.
Many companies with seasonal fluctuations will also offer additional services during the low season. For example, in states with cold winters many window cleaners turn to Christmas light installation to make up for the seasonal dip in sales.
During peak seasons, efficiency is key. Ensure your team is well-prepared to handle the increased workload—this could mean hiring temporary staff or offering overtime to existing employees.
Additionally, it would be beneficial to have a robust scheduling system in place to manage appointments effectively and avoid overbooking.
Remember, being prepared for these seasonal fluctuations not only helps manage your resources effectively but also plays a significant role in customer satisfaction and your business's overall success.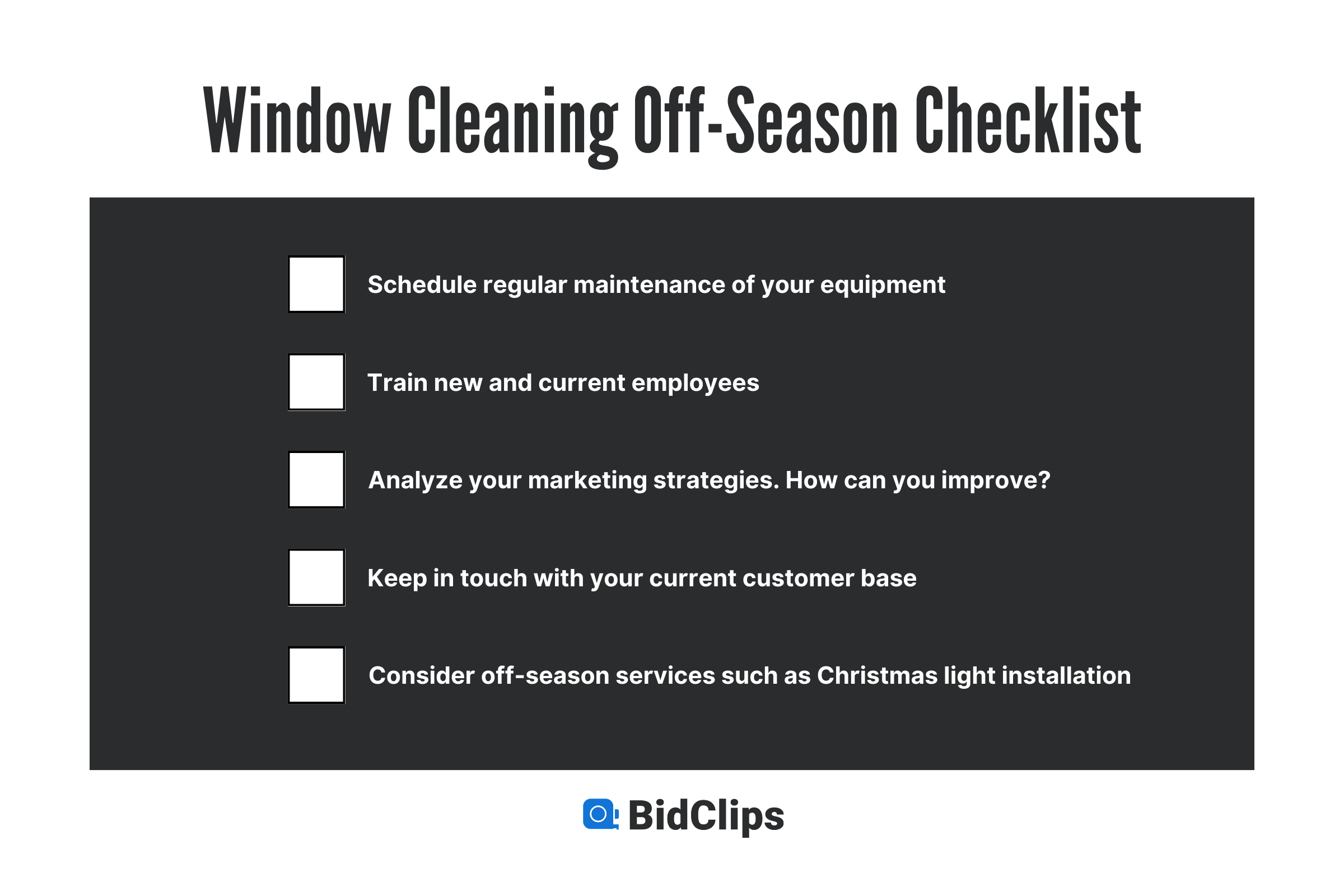 We Have the Software You Need When You're Starting a Window Cleaning Business
Starting a window cleaning business can be a wonderful opportunity for entrepreneurs who are looking for a scalable, low-investment opportunity.
In order to have an efficient and successful business that sets you apart from your competitors, it's essential to use results-driven window cleaning software.
Is it time for you to take your business to the next level? If so, schedule a demo today!