Protecting Your Window Cleaning Business: A Deep Dive into Insurance
By
Briana
·
6 minute read
Navigating the world of insurance can be daunting, especially when it comes to window cleaning businesses. Ensuring your business is well-covered and protected from the various risks and liabilities that come with the job is crucial.
In this guide, we will explore the essential window cleaning insurance policies, additional insurance options for comprehensive protection, factors affecting insurance costs, and tips for choosing the right insurance provider.
Key Takeaways
Window cleaning business insurance provides tailored coverage to protect window cleaners from liabilities and financial losses.

Essential policies for window cleaning businesses include general liability, workers' compensation, commercial auto insurance, inland marine insurance, umbrella liability insurance & professional liability.

Factors affecting costs of window cleaning insurances are size/revenue of the business, services offered, and claim history, research thoroughly when selecting a provider!
Understanding Window Cleaning Insurance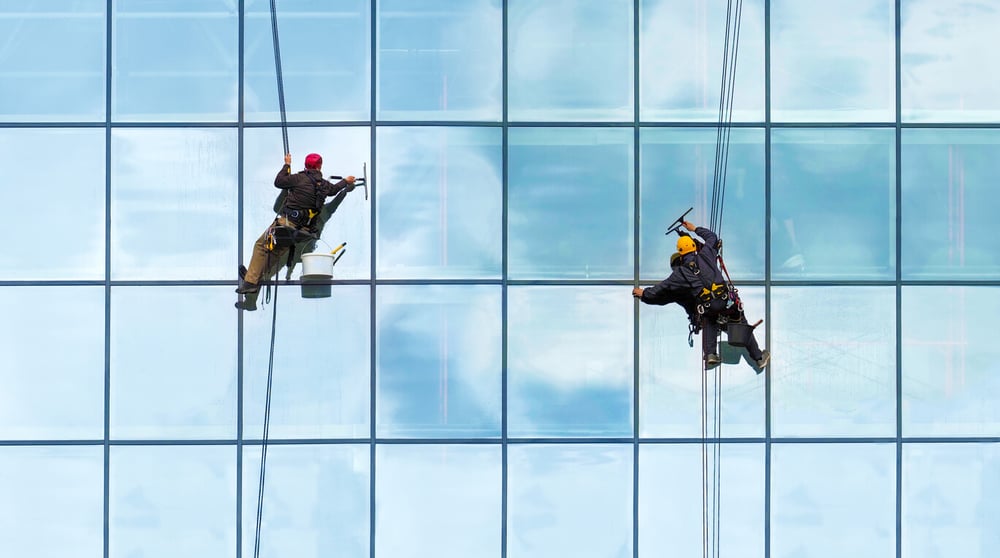 Window cleaning business insurance, a specialized policy, is designed to protect window cleaners from risks or liabilities. This bespoke coverage shields your window cleaning business's financial stability, employees, inventory, and customers. The cost of window cleaning insurance depends on factors such as business size, revenue, and the scope of services provided.
Typical claims scenarios covered by window cleaning insurance include injuries to pedestrians while working on a highrise building, accidents causing damage to equipment, and auto accidents involving company vehicles. Customized insurance coverage ensures comprehensive protection for your window cleaning company.
The Importance of Insurance for Window Cleaners
Given the high-risk nature of the job and the potential for property damage, window cleaners greatly benefit from insurance. Accidents can happen even with the most stringent safety protocols in place. Insurance allows for the mitigation of risk, safeguards against potential property damage, and ensures financial protection for both employees and clients.
Window Washer's insurance options include:
General Liability insurance, which is the essential requirement for window cleaners

Window Cleaner Insurance, for comprehensive protection

Umbrella Liability Insurance, for additional coverage

Professional Liability Insurance, for specialized protection
Consider these insurance options to ensure comprehensive coverage for your window cleaning business.
Key Risks and Liabilities
Window cleaning businesses face various risks such as third-party property damages and injuries. A Business Owners Policy (BOP) is a comprehensive insurance package designed to provide tailored coverage options for business owners, distinct from standard handyman insurance policies.
BOP typically encompasses costs associated with the loss of business equipment, injuries occurring at a physical location or job site, and other commercial property, including tools and equipment.
Window cleaning insurance can provide coverage for:
Claims and expenses associated with property damage, including commercial property insurance

Claims and expenses associated with bodily injury

Claims and expenses associated with advertising injury

Window cleaning liability insurance for potential legal claims related to your window cleaning business
To get an idea of window cleaning insurance cost, it's best to consult with an insurance provider who specializes in cleaning insurance policies.
For example, a BOP would cover the medical costs and legal expenses associated with a client tripping and falling at the office, resulting in bodily injury.
Essential Insurance Policies for Window Cleaning Businesses
A diverse window cleaning insurance plan commonly includes general liability insurance, workers' compensation insurance, and commercial auto insurance to shield against prevalent risks in the industry.
These three types of insurance are crucial for any window cleaning business.
General Liability Insurance
General liability insurance provides protection for window cleaning businesses against potential lawsuits and claims resulting from property damage, bodily injury, and advertising injury. In the event of an accident, this coverage takes care of medical treatment and legal expenses to defend the business, as well as any covered amounts settled out of court or awarded in a lawsuit.
Licensing of window cleaners is often subject to certain state requirements. One of these requirements is the purchase of a commercial general liability policy. Potential customers often require window cleaning contractors to provide evidence of adequate general liability coverage.
Workers' Compensation Insurance
Workers' compensation insurance provides coverage for:
Medical expenses

Lost wages

Rehabilitation costs for employees who sustain an injury while at work

Death benefits for their families
Despite stringent safety protocols, the hazardous nature of window cleaning means accidents may still occur, underlining the importance of workers' compensation insurance.
The coverage offered by workers' compensation insurance is mandated by the majority of states, ensuring that employees injured on the job receive the necessary support and benefits.
Commercial Auto Insurance
Businesses utilizing vehicles for work-related activities require commercial auto insurance, which covers expenses associated with accidents, property damage, and legal fees. It is a critical component for window cleaning businesses as it is mandated by most states and safeguards against potential accidents that may occur while utilizing a vehicle for work.
The cost of commercial auto insurance is affected by factors such as business size and revenue, the type of services offered, and the claim history. It covers medical expenses for any individuals injured in an accident involving a commercial van used by a window cleaning business, as well as repair or replacement costs for any damaged properties.
Additional Insurance Options for Comprehensive Protection
Beyond the essential policies, window cleaning businesses can leverage other insurance options like inland marine insurance, umbrella liability insurance, and professional liability insurance for extra protection and risk mitigation.
These additional policies can help cover the costs of property damage, legal fees, and other expenses.
Inland Marine Insurance
Inland marine insurance offers coverage for equipment and tools that are in transit or stored away from the primary location, safeguarding against potential damage or theft.
This type of insurance is particularly useful for window cleaning businesses, as their tools and equipment are often transported between job sites and stored off-site.
Umbrella Liability Insurance
Umbrella liability insurance provides additional coverage beyond the limits of existing liability policies, such as general liability, auto, and homeowners insurance.
This type of insurance can provide extra protection for businesses in the event of a lawsuit or other legal action, safeguarding personal assets and ensuring financial stability.
Professional Liability Insurance
Professional liability insurance, also known as errors and omissions insurance, covers window cleaners against claims of negligence or mistakes made while providing services.
This additional protection can be beneficial to window cleaning businesses as it shields them from potential lawsuits or legal actions stemming from unintentional errors or oversights during the provision of their services.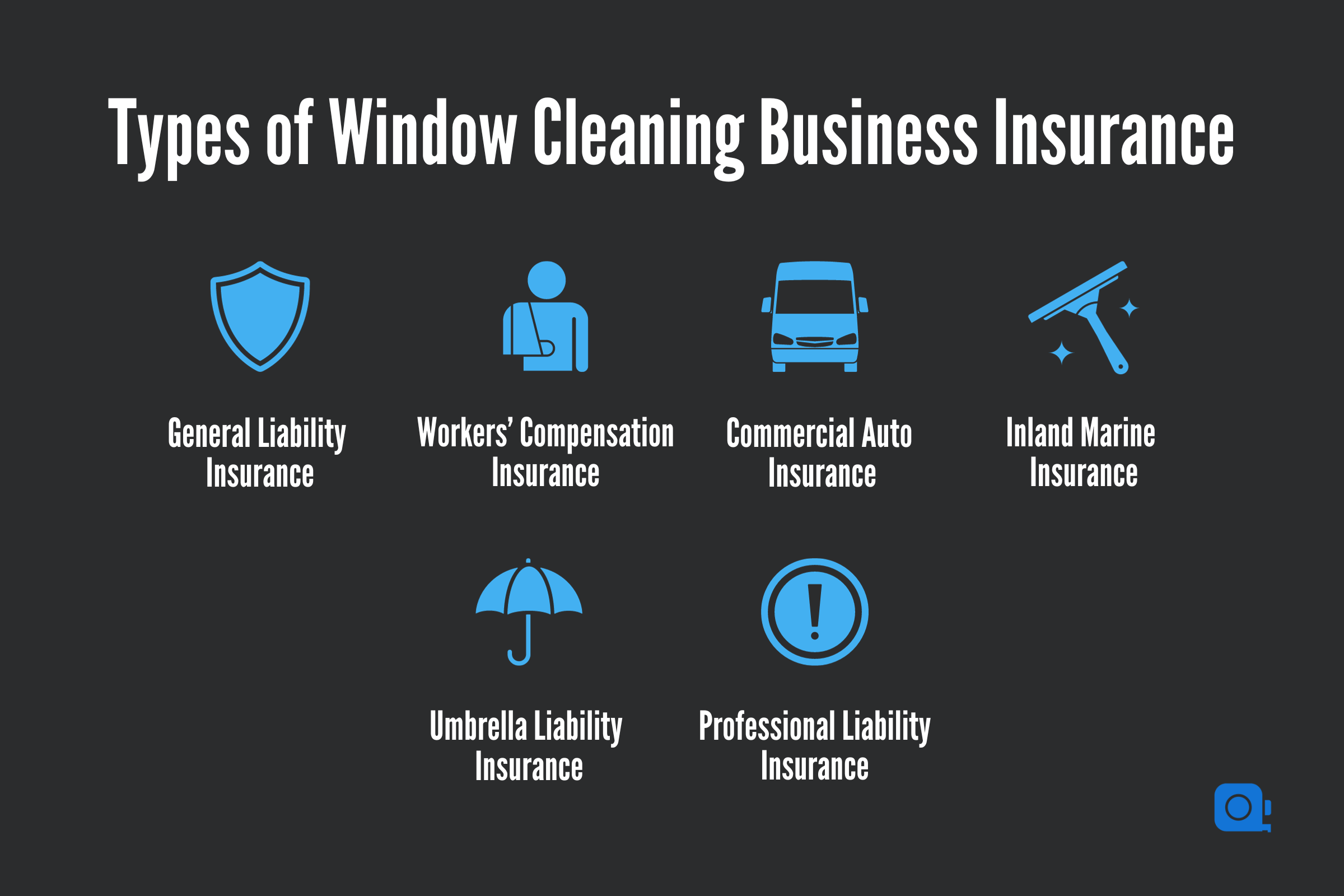 Factors Affecting Window Cleaning Insurance Costs
The cost of window cleaning insurance is influenced by several factors including business size and revenue, types of services offered, and the company's claim history.
Business Size and Revenue
Larger businesses with higher revenues may face higher insurance premiums due to increased risk and potential for larger claims. Generally, the larger the business, the higher the cost of insurance, as higher revenue implies a greater potential loss, thus increasing the risk to the insurer.
Type of Services Offered
The type of services offered by a window cleaning business can influence insurance costs due to the varying levels of risk involved. For example, additional coverage may be needed for services like high-rise window cleaning, gutter cleaning, and pressure washing, which could result in an increase in insurance costs.
Businesses should consider the types of services they offer and the associated risks when determining their business insurance needs.
Claim History
A business with a history of claims may face higher insurance premiums, as insurers view them as a higher risk. Companies with a history of claims might be subject to higher premiums than those without, making it essential for businesses to maintain a good claim history to keep insurance costs manageable.
By ensuring that claims are handled properly and promptly, businesses can help to keep their premiums low.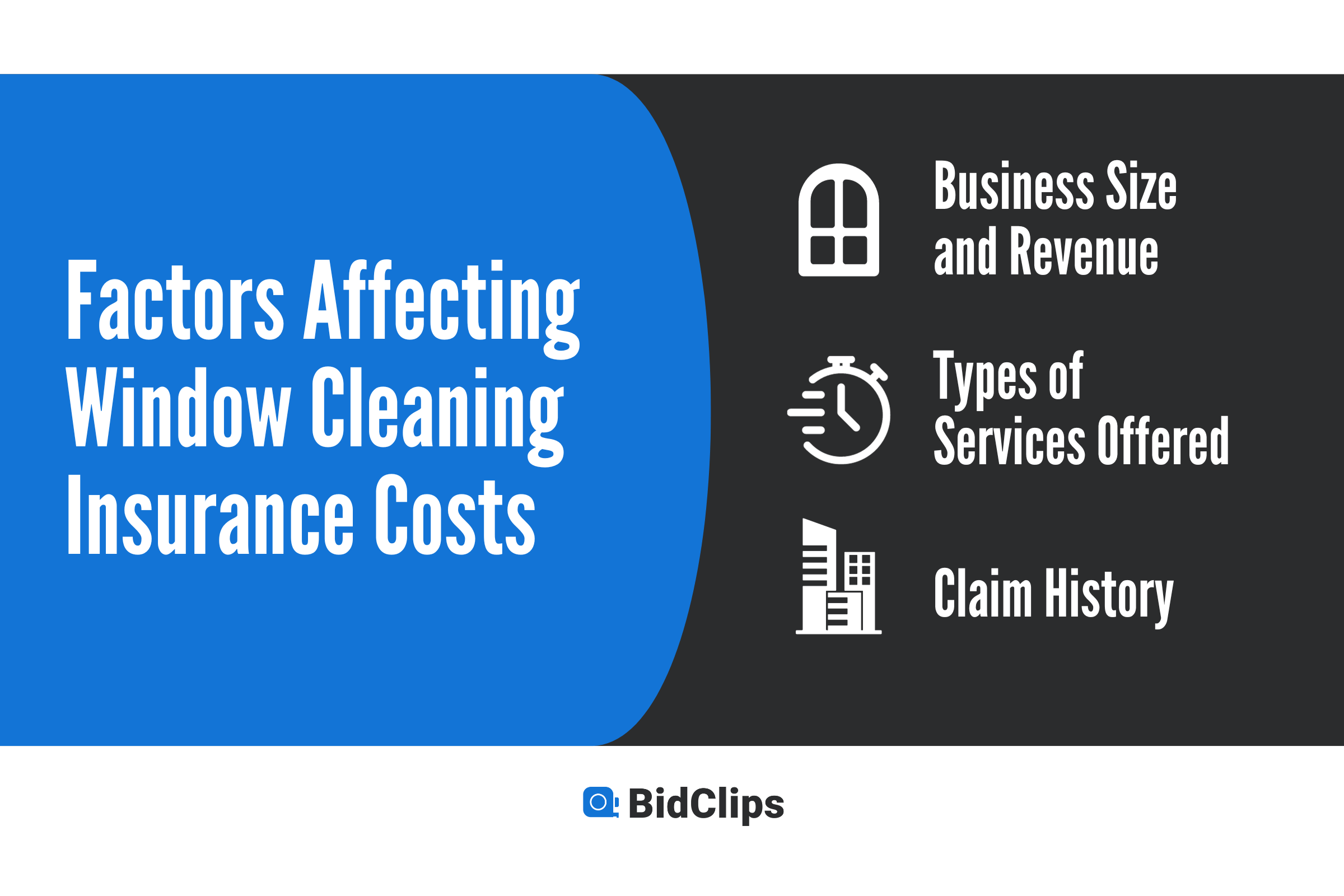 Tips for Choosing the Right Window Cleaning Insurance Provider
Selecting the right window cleaning insurance provider involves careful research and comparison of quotes, reputation, and coverage options. When selecting an insurance provider, consider the following:
Confirm they offer bespoke coverage options that cater to the specific needs of your window cleaning business.

Look for providers with a proven track record of excellent customer service.

Consider cost-effective coverage options, such as CoverWallet and ContractorsLiability.com.
Take advantage of online tools to obtain and compare multiple quotes from various companies, enabling you to select the most suitable and cost-effective coverage for your window washing business.
Remember to read the policy thoroughly and verify that the insurance provider is aware of the chemicals and equipment your business uses, as this can affect coverage in the event of an incident.
Summary
In conclusion, having the right window cleaning insurance is crucial for protecting your business from risks and liabilities, ensuring financial stability, and safeguarding employees, inventory, and customers.
A comprehensive insurance plan should include essential policies such as general liability, workers' compensation, and commercial auto insurance, as well as additional options like inland marine, umbrella liability, and professional liability insurance.
Keep in mind the factors affecting window cleaning insurance costs and follow the tips provided to choose the right insurance provider for your business. Invest in the proper coverage and secure your window cleaning business's future success.
Frequently Asked Questions
What insurance do I need for window cleaning?
For window cleaning, general liability insurance is essential as it will protect you from third-party risks, such as accidental damage to a window or someone getting injured. It's often required by customers and can help cover financial losses.
Can window washers get life insurance?
Yes, window washers are legally required to have workers' compensation insurance which includes life insurance to protect employees in the event of an on-the-job injury.
Is window cleaning a good investment?
Window cleaning is a great investment, since you can receive payment up front, benefit from recurring revenue, and incur low overhead costs. It also provides ample customer service opportunities.
Can I wash windows without a license?
In most regions, window cleaning doesn't require professional licensing. However, business-related permits and insurances are typically necessary if you're planning to make it a professional venture. It's always a good idea to check local regulations to ensure you're operating within the law. These rules can differ greatly depending on individual state or regional requirements.
Can I just start a window cleaning business?
Yes, you can definitely start a window cleaning business! However, it's essential to plan thoroughly before diving in. Besides legal requirements such as permits and insurances, you'd need to invest in the right tools and equipment. You should also research the market demand, pricing, and competition in your area. Additionally, having a marketing strategy in place can help bring in clients. It's worthwhile to consider getting trained in window cleaning techniques to offer professional quality services. Starting your own business can be a rewarding endeavor, but it requires careful planning and commitment