How Window Cleaning SEO Can Boost Sales for Businesses

By
Joseph Larson
·
6 minute read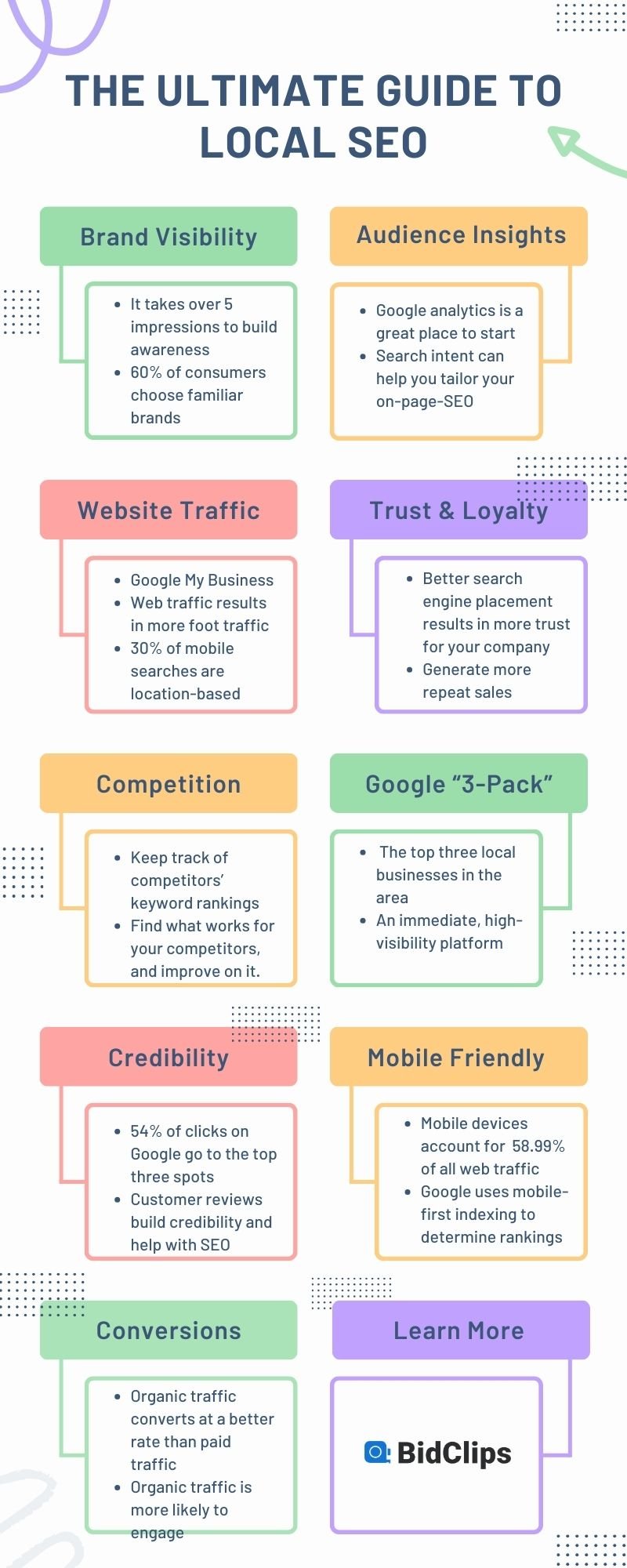 Nearly 50% of all Google searches are local. Meanwhile, over 50% of all website traffic comes from organic searches. The leads you generate from search engines are eight times more likely to become customers, too.
With local search engine optimization (SEO), you can push your window cleaning business to the next level. You can boost brand awareness, get ahead of the competition, and generate more sales!
Still on the fence about diving into window cleaning SEO? Here are nine amazing benefits to keep in mind.
1. Local SEO can Build Brand Visibility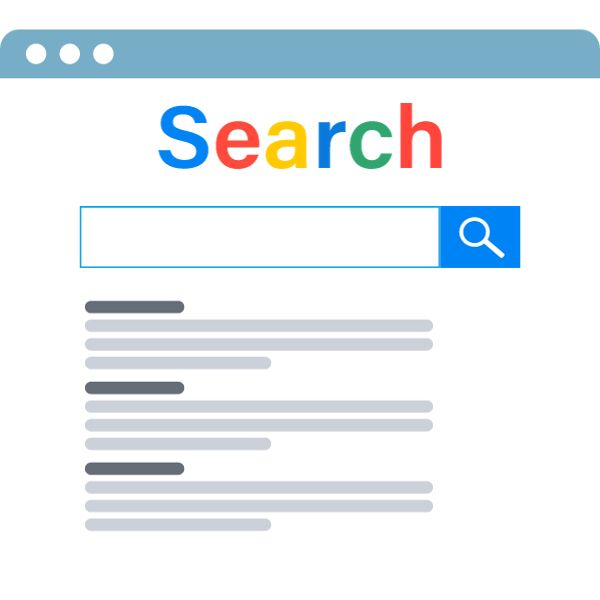 Does your window cleaning business appear on the first page of search results when someone Google's "window cleaning company near me?" If not, there's a chance consumers aren't finding your business. If they can't find you online, you're missing a chance to build brand awareness.
With local search engine optimization services, your website can appear in google search results each time someone looks for a window cleaning company. Each time your website appears, you're building brand awareness.
It's important that you keep appearing in front of consumers. After all, it takes over five impressions before you build even a little awareness. Meanwhile, nearly 60% of consumers prefer choosing familiar brands.
With local window cleaning SEO strategies, you can appear in front of consumers more often. In time, brand awareness can grow into brand recognition.
The next time someone needs a window cleaning business, they'll remember seeing your business online. Instead of a broad Google search, they'll Google your business directly. A direct search could boost your search engine ranking.
A higher search engine ranking will position you in front of even more customers. Then, you can start generating traffic and boosting leads.
If you're not using local window cleaning SEO services, however, you might struggle to gain brand visibility online. Your competitors will appear in front of your would-be customers instead.
2. Gain Audience Insights
One of the benefits that window cleaning companies get from using local SEO strategies is the insights they'll gather. Before you can boost your SEO ranking, you need to understand your customers. Otherwise, you'll struggle to appeal to their search intent.
Google analytics is a great place to start for finding insights into your customer's behavior on your website. With Google analytics, you can track information like session duration, pages per session, click rates, bounce rates, and much more.
Google analytics also offers an entire course for free to learn how to best utilize it as a tool. Your google analytics setup is one of the most important steps you can take in gathering information on customer behavior on your site.
The consumer's search intent indicates what they expect to find during a search.
Google's machine learning abilities allow it to better anticipate the user's search intent. It displays search results based on that intent.
You can gather information about your target audience and their search habits before developing your content. Then, you can help your on page seo by answering the questions they're asking online.
Consumers will recognize you have the answers they're looking for. They'll start to turn to you for the experience and expertise they need.
You'll have an easier time personalizing your content, too. Personalization doesn't just help your on page seo, it can also help you connect with your target audience. You can empathize with their pain points and show them your business has the best solution.
If you're not focusing on developing a local window cleaning SEO strategy, however, you might neglect to gather the information you need.
3. Boost Website Traffic
Appealing to the user's search intent can help you generate more traffic to your window cleaning website In fact, it could help you generate foot traffic to your business, too.
About 30% of all mobile searches are location-based. Nearly 80% of consumers will visit a business within 24-hours of their search. Meanwhile, nearly 30% of these searches result in a purchase.
Remember, reaching the top of a search engine results page will help you appear in front of more consumers. More people will start visiting your website as a result. They can learn more about your window cleaning company before hiring you.
Without local window cleaning SEO services, however, you'll struggle to reach these customers.
One of the most effective local search engine optimization strategies you can use is Google My Business optimization.
Your Google My Business listing displays helpful information like your phone number and website. Consumers can visit your site from your listing.
Google will recognize you're generating traffic from multiple resources. It could boost your ranking, helping your window cleaning company reach more people!
4. Build Trust and Loyalty
If people can't find you online, they might struggle to trust your business. Instead, you can use your local window cleaning SEO content strategy to boost trust.
Creating relevant, useful content for your window cleaning website can show potential customers that you have the knowledge and experience to be worth their while. For example, a blog post detailing the steps your window cleaners make while on the job can show customers what they can expect when working with you. Or an informational post detailing the difference between commercial and residential window cleaning.
Your front page can show consumers you have window cleaning services with the experience and expertise they need. Implement customer testimonials and videos of your work throughout your website to show firsthand the good work you do.
Search engines take into account the amount of time customers spend on your website. So, it is very important to have trustworthy, relevant content for searchers to find online. They might decide to give your business a try.
Over time, trust can turn into loyalty. You can nurture your relationships with customers, boosting your retention rate. A higher retention rate can improve your ROI as you generate repeat sales.
5. Keep Competing
Using the latest local SEO strategies can help you compete with other local window cleaning businesses. You can get ahead on search engine results pages and draw more traffic to your website. Use tools like SEMRush or Moz to develop a great strategy regarding window cleaning keywords to match your customers' search queries.
A good seo campaign will include keeping close track of your window cleaning competitors. It's important to track which window cleaning keywords your competitors are ranking for, so that you can develop a plan to rank higher and take up more space on the front page of google.
Keep an eye on which of your competitors hold the highest spots on google, and monitor the content they create to get them there. Google will keep track of the most relevant content, so make an effort to improve on what you see your competitors doing.
Thankfully, the window cleaning industry as a whole has a relatively low KD (keyword difficulty), meaning it's easier to do well in search engine rankings if you are willing to put a little effort into your seo campaign.
SEO is a cost-effective marketing strategy, meaning you won't have to blow through your budget to generate results.
6. Reach the Map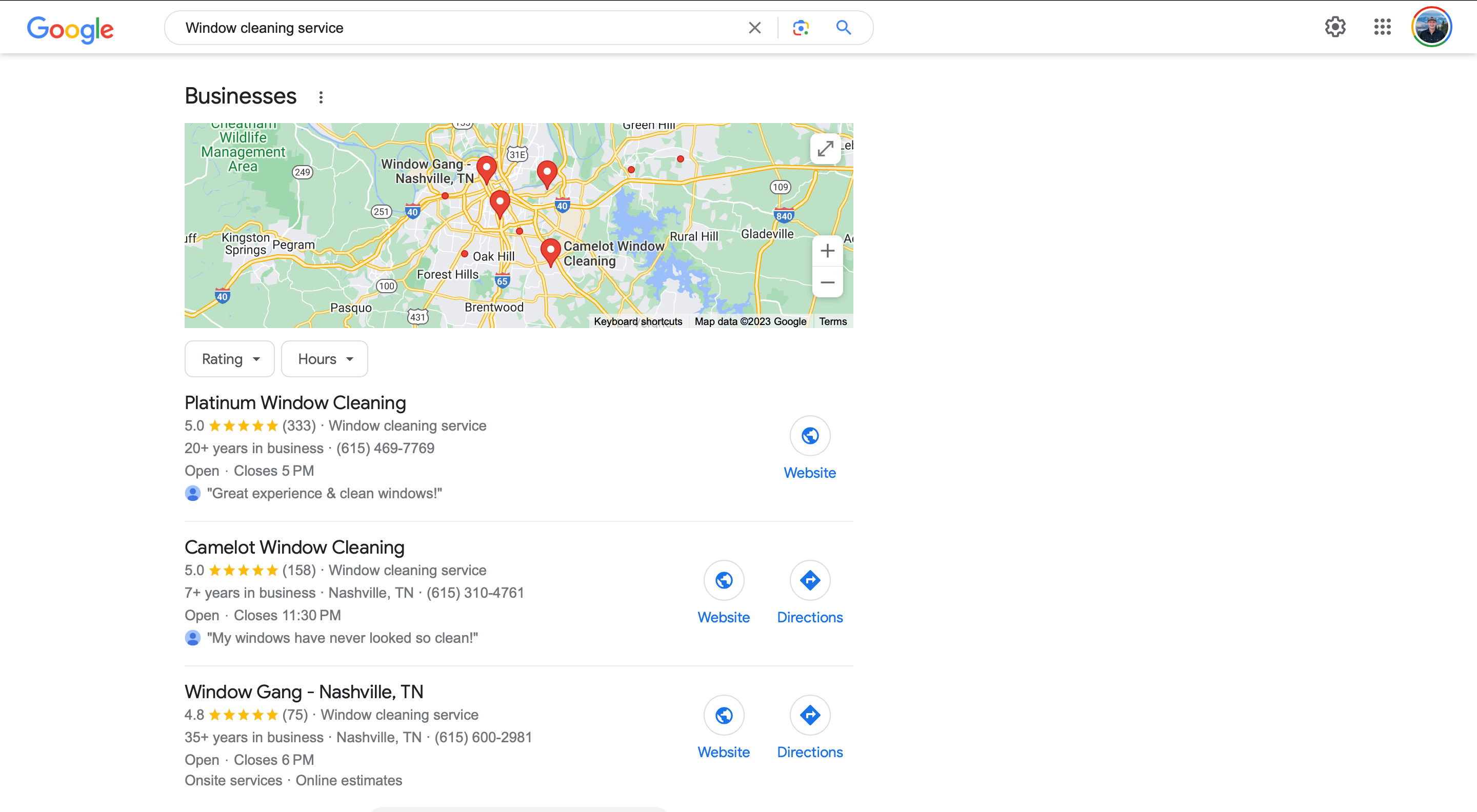 You can use local services to reach the 3-Pack on Google Maps. Consumers will see your business on the map that appears on search result pages. You can gain a prominent position online and generate more traffic or leads.
The 3-Pack on Google Maps is a valuable feature for window cleaning businesses seeking greater visibility. When a user searches for window cleaning services, Google Maps displays the top three local businesses in an area, known as the "3-Pack." This feature provides an immediate, high-visibility platform for the businesses selected.
The 3-Pack offers a snapshot of essential data such as business name, reviews, and contact details, encouraging potential customers to engage. For window cleaning businesses, being in the 3-pack can significantly enhance local exposure, drive traffic, and ultimately, increase customer conversions.
7. Gain Credibility
Reaching the top of a results page can also boost your credibility.
Consumers will see you outrank the competition. They'll feel more comfortable trusting a business at the top of page 1 than someone on page 3.
Getting your page to rank in the top three spots on google is the best credibility booster of all. In fact, 54% of all clicks on google go to the top three spots.
You can also generate customer reviews as part of your local SEO strategy. Customer reviews can boost your credibility. More people might decide to trust you as a result.
8. Remain Mobile
As you use the latest local window cleaning SEO strategies, it's also important to remain mobile. Google uses mobile-first indexing to determine rankings. On-the-go consumers are more likely to visit your website from their phones, too.
When editing your website, it is sometimes difficult to remember to keep things mobile friendly, but the stats back up the importance of making sure your window cleaning website is navigable on mobile devices.
Mobile devices account for 58.99% of all website traffic worldwide.
Remaining mobile friendly can help you appear in front of more consumers online.
9. Boost Conversions
Above all else, local SEO can help you generate more leads and conversions. This cost-effective marketing strategy can improve your ROI, too.
Search engine optimization can significantly boost conversions for window cleaning companies by improving their visibility on search engine results pages (SERPs).
When a company optimizes its website with relevant keywords, it increases its chances of being discovered by potential customers searching for window cleaning services. SEO also enhances the user experience by making a website easier to navigate, which can reduce bounce rates and increase the likelihood of conversions.
According to Electriq, organic traffic converts much better than paid traffic, with a conversion rate of 16% compared to a conversion rate of 2% for paid.
You can set your window cleaning business up for success and lasting growth!
Love the Locals: 9 Benefits of Local SEO for Your Window Cleaning Business
Don't let your competitors take the lead. Instead, start appealing to your local target audience. With local SEO, you can reach more customers and start enjoying these amazing benefits!
Need help developing your local SEO strategy? We're here to help.
Discover how BidClips has been building better customer experiences for window cleaning companies everywhere. Request a demo today to get started.