How to Create a Quote Template for Your Pest Control Business

By
Joseph Larson
·
5 minute read
Studies show that people are more likely to use products or services when they are aware of the cost. Because people like to know exactly how much they are going to spend, they will often work with companies that provide free estimates for their products and services.
The pest control industry is no different. Offering estimates for your pest control company is one of the easiest ways to make more sales and get a customer on board.
Do you want to learn more about creating a pest control quote template for your business?
Keep reading this guide for the top elements a pest control quote includes and other tips to create estimates for your pest control business.
TABLE OF CONTENTS
Make Your Pest Control Quote Professional and Official
Making your pest control quote template professional and official is one of the most important things you can do.
Whether the quote is for insects or wildlife, a professional layout and design for your estimates will help you establish trust and credibility with your clients. It will show that you take your business seriously and that you pay attention to details.
While it may be tempting to give quotes over the phone or to write a handwritten quote for your clients, this can look messy and unprofessional. Your pest control quotation format matters.
Make sure you have an official pest control proposal template online or in PDF format that you use for each of your pest control services.
Having a set template will help you quote faster and keep your brand consistent.
Here's what to include to create a professional pest control quote template for your business:
Include a Quote Reference Number
Because you may be sending out dozens of quotes each day, you must include a reference number for each of your quotes. These are unique numbers assigned to individual quotes that help you organize and keep track of each pest control estimate.
If you ever need to pull up a client's information, you can simply use your reference number to find the right quotation.
Clearly State Business & Contact Details
Next, it is important that your pest control quote includes business and contact details.
For your customers, you should include their full name and address, phone number, email, and anything else you may need to know to perform your services. This way, you will have all of their information collected in one PDF document.
You should also include business contact details, your business name, and your address. To make your pest control quote template look even more professional, you can include your business logo as well.
This will help you improve your business branding with consistency and will make it easy for customers to recognize your business in the future.
List What Pest Control Services Are Included
While many people will simply list the cost of their services in an estimate, your pest control quote must also list the products or services that are included in the price.
This is important if your client is paying for multiple products or services. Having an itemized list of your pest control services and their costs will help break down the total cost for your clients.
When describing the services included in the price, make sure you list the price for each pest control service, a description of the service, and more. This way, your clients will know exactly what they are paying for when they select from your different pest control treatment options.
State the Total Cost
Next, include total cost of your pest control service. This makes it easy for clients to compare the cost of services between companies.
When stating the cost of your treatments, you must know the difference between quotes and estimates. When it comes to quotes vs estimates, quotes give an exact cost. Estimates are more of an approximation for the client.
Also, it is important to note the main difference between quotes vs invoices. These are two separate documents you must give to your clients to make sure you are paid the correct amount on time.
While both state the total cost of the project, you give a pest control quotation before you start work. An invoice is given after the treatment has been completed.
Have Set Terms and Conditions
When you send your potential customer a quote, you need to include the terms and conditions for your service. This will help your customer learn more about their responsibilities and can help you set expectations for your pest control services.
This includes setting payment terms, additional costs, and any changes that may arise while you are working on the project.
If you have a set timeframe for how long your quote is valid, you also need to include the date of issue in your terms and conditions. This way, you will have a record of when you sent the quote and you can determine whether or not it is still valid.
Many pest control quote templates also include an area for a legally binding signature. Some pest control businesses that apply pesticides are regulated by state entities and need further documentation to comply with local laws.
Always check you state and local websites for more information and to learn if you need your customers to sign their proposals.
Insert Images and Videos into your Pest Control Quotation
For many pest control companies, the first step with a customer is to complete a free inspection of the treatment area. This helps you understand what different types of pests you are dealing with and the level of infestation in the home, yard, or business.
While providing this free service, you may also be taking photos or videos to document the infestation and what areas needs to be treated.
Why not include these images and videos in your pest control estimate?
Modern PDF's support adding multi-media elements such as images and videos. Providing images and videos will demonstrate to your prospects that you have a thorough understanding of their problem and are proactive in your solutions.
Embedding videos in your pest control estimate can also be a great way to display your brand's professionalism and communicate what a customer can expect before, during, and after their pest control service.
Embed a link for customers to pay online
With 82% of Americans using digital payments, it's no wonder that many pest control companies now offer customers ways to pay online for their service.
No matter your pest control estimate format, you can provide your customers with the ways that they can pay for their service. If you have Quickbooks, Stripe, or a service like BidClips, you can embed a link directly to your checkout page in your PDF estimate template.
Alternatively, if you receive payments via Zelle or Venmo, why not include directions to pay in a notes section of your estimate template.
Including online payments in your pest control estimate template, will not only make your company look professional, but it will help you get paid faster and increase your cash flow.
Thank Your Customers
Finally, you should thank each of your potential customers for considering your business. There are many pest control companies that they can choose from, so you should show that you are grateful for their business and the support of your company.
Pest Control Quotation PDF Samples
Below is a sample pest control quotation PDF generated by the BidClips platform.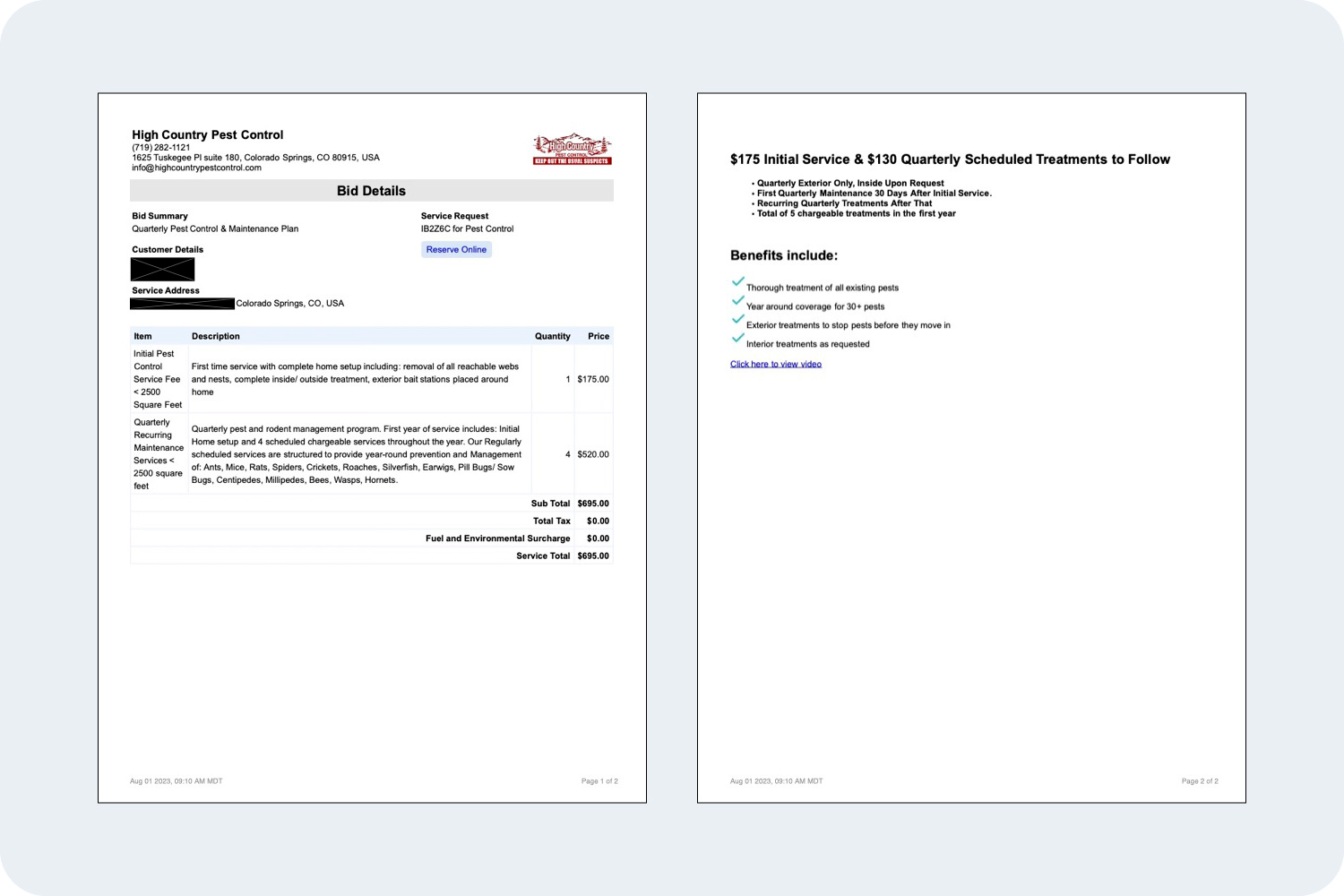 As you can see they included all of the required information such as their company name and contact details, a quote reference number, the customer details, the included services and their associated costs.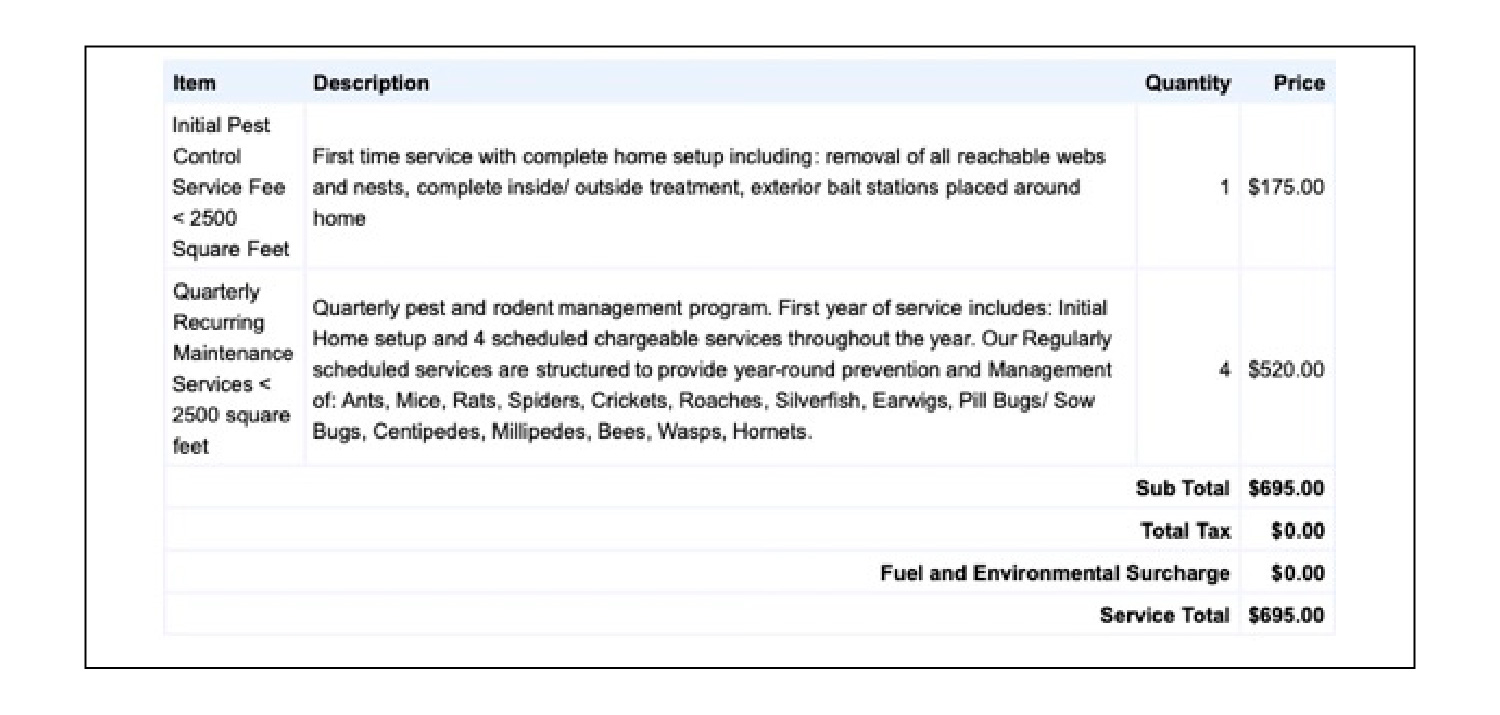 However, they also went above and beyond by including a link for the customer to book and pay for their pest control service online, a message that describes why a customer would want to choose their service, and a video about their company.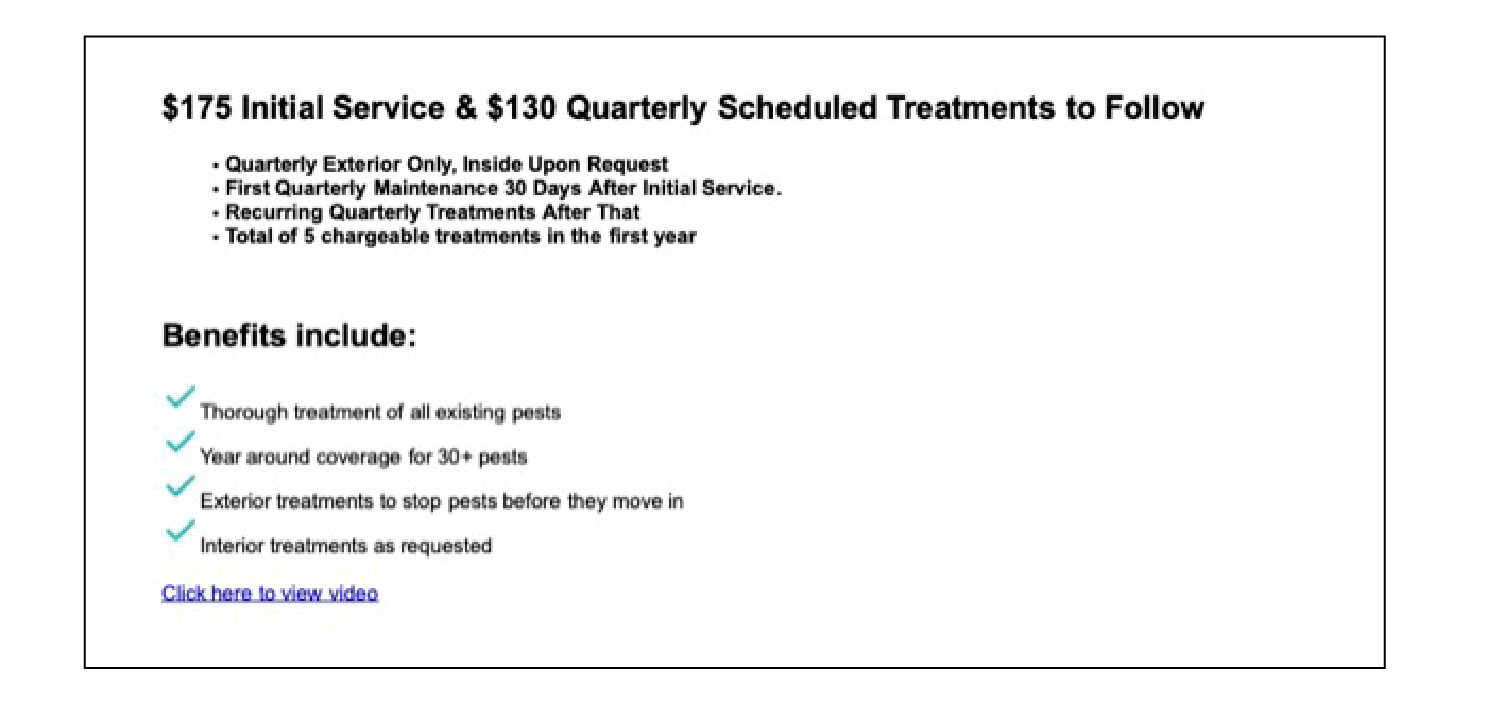 Free Pest Control Quote Template Download
Check out our free PDF pest control quote template download. Easily add your company details, services, and more to look like a pro and impress your customers from day one.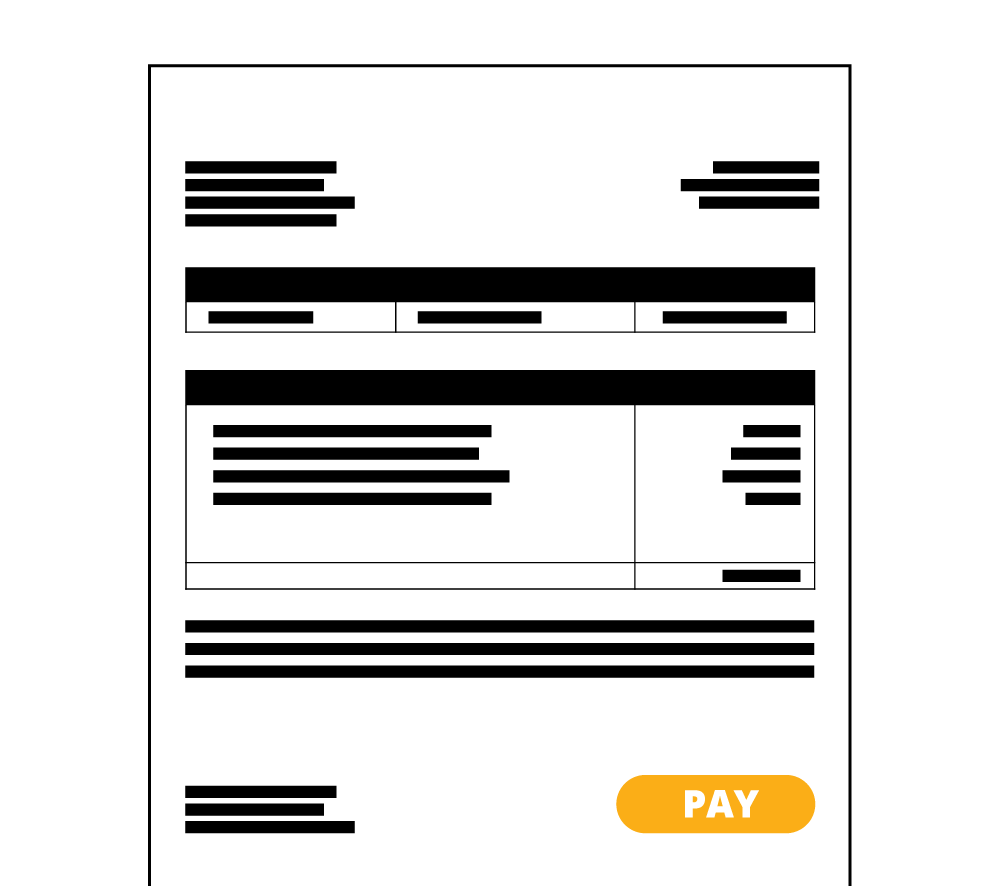 Need Help Creating a Professional Pest Control Quote Template?
Creating a quote template for your pest control company is an effective way to gain more clients and earn more business. Including each of these features in your business quotes will ensure that your potential customers have all the information they need about your business and services.
If you want help creating a customized quote template for your business, BidClips can help! We have an interactive quote builder with automated followups that make it simple to grow your business.
Contact us today to request a demo and to learn more about our products!