Every Job Done Right: Announcing BidClips Integration with ServiceTitan
By
Briana
·
1 minute read
Running a service business is hard work. From managing your customer relationships to making sure every job is done on time, your day never ends.
For every completed job and satisfied customer, there are schedules to be organized, payments to track down, and lots of phone calls along the way.
That's why we integrated BidClips with ServiceTitan to make job management even easier. You can now sync BidClips jobs to ServiceTitan for full field service management. And you can sync calls and bookings form ServiceTitan to streamline your customer communicate and win jobs faster.
Reducing Manual Data Entry
You day isn't meant to be spent manually entering all of your won jobs from BidClips into ServiceTitan. Now you can easily sync new jobs from BidClips to ServiceTitan to take advantage of their full suite of field service management features.
Using BidClips you can communicate with customers, quote faster, and easily collect down payments for new jobs. Once the job is ready to be scheduled and trucks are ready to roll, send the job to ServiceTitan for scheduling, dispatching, and invoicing, ensuring that every job is completed efficiently and on time.
What can you sync From BidClips to Service Titan
You can sync BidClips jobs, estimates, and payments into ServiceTitan jobs, estimates, and invoices as follows: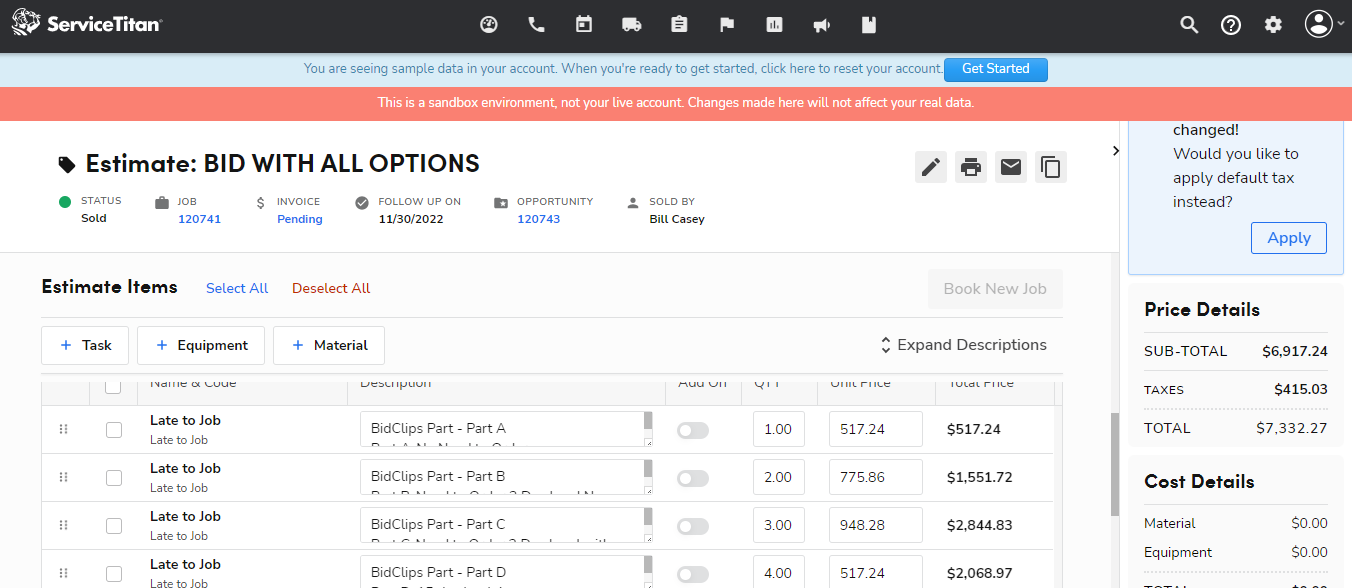 What can you sync from ServiceTitan to BidClips
You can sync calls and bookings from ServiceTitan into BidClips Service Requests to help you convert leads into customers.
Calls → Service Request

Bookings → Service Request
About ServiceTitan
ServiceTitan is a game-changer for home services businesses, providing them with the tools and capabilities they need to succeed in today's competitive market. This powerful software allows businesses to streamline their operations, optimize their workflows, and enhance their customer experience.
With ServiceTitan, companies can easily manage their scheduling, dispatching, and invoicing processes, ensuring that every job is completed efficiently and on time.
This valuable data can be leveraged to personalize interactions, offer targeted promotions, and build long-lasting relationships with customers. Additionally, ServiceTitan provides real-time analytics and reporting, giving businesses insights into their performance and areas for improvement.
Getting Every Job Done Right
Learn how using BidClips and ServiceTitan together can improve your lead to job pipeline and ensure every job is done right.