Connect BidClips to Quickbooks Online
By
Briana
·
1 minute read
BidClips is excited to announce our new integration with Quickbooks online. Quickbooks online is the leading financial management software for small businesses. Our integration is design to drive a streamlined quote to invoice workflow, reduce manual data entry, and increase data accuracy.
Why BidClips and Quickbooks?
You already know that BidClips is the all-in-one sales and communication solution for the home services industry. And small service businesses trust Quickbooks to manage their invoicing, cash flow, and accounting needs.
As part of our vision to better serve our customers, BidClips has integrated with Quickbooks to streamline the job to invoice workflow and map payments made by consumers on the BidClips widget or by providers on the platform to Quickbook invoices.
How it Works
Through our integration, job data will flow from BidClips to Quickbooks and create a new invoice in the platform, creating a streamlined workflow.
Also, any payments made through BidClips will be reflected on the corresponding Quickbooks invoice keeping the 'Amount Due' balance up to date across both platforms.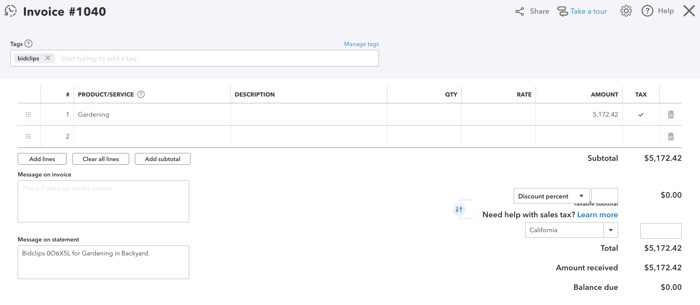 With the integration, our customers will:
Optimize efficiency by combining the power of two platforms designed to streamline sales and financial workflows.
Increase data accuracy with information that flows seamlessly from BidClips to Quickbooks, eliminating redundant data entry and transcription errors.
Maintain a complete payment history tied to a customer across both platforms.
With consistent data delivered across both platforms, businesses will minimize the hassle of redundant data entry and the pain of tracking and fixing errors. With accurate estimates and invoices, customers are met with a better experience.
The Quickbooks integration is ready to use in BidClips today. Contact our specialists to learn more and start winning more sales today!